Echinopsis chamaecereus
H. Friedrich & W. Glaetzle
Growth Habits:
Small heavily clumping plant with finger shaped stems.
Scientific name:
Echinopsis chamaecereus
Common names:
Peanut cactus
Synonym:
Cereus silvestrii, Lobivia silvestrii Chamaecereus silvestrii
Etymology:
From the Greek echinos sea urchin opsis appearance.
Named after the zoologist Dr. Silvester who was the first to describe it.
Origin:
Tucuman - Argentina
Light:
Full sun to light shade.plants will turn a reddish colour if kept in bright sunlight.
Compost.
A free draining standard cactus mix.
Water:
Regular water in spring to autumn.
Flower:
Red 1 1\2 inches (4cm) dia
Min temp:
Hardy to 20°F (-7°C), for short periods.
Cultivation:
Easy to grow and usually propagated by breaking off a piece and planting.
Comments:
A good plant for beginners as it is not very demanding. Over many years the plant has been extensively hybridised (mainly with Lobivia) to give many flower colours ranging from white to deep red, yellow, orange, ect. The plant has been so extensively hybridised over the last few years that the original form has become fairly hard to come by. There is also a chlorophyll lacking form called E. chamaecereus var. lutea which is pale yellow and can only survive as a grafted plant. Although this plant has recently been moved to the genus Echinopsis many sellers and growers still prefer to call it Chamaecereus sylvestrii.
Pictured below are the hybrid "michaela" a white flowered form and the grafted yellow bodied E. chamaecereus var. lutea.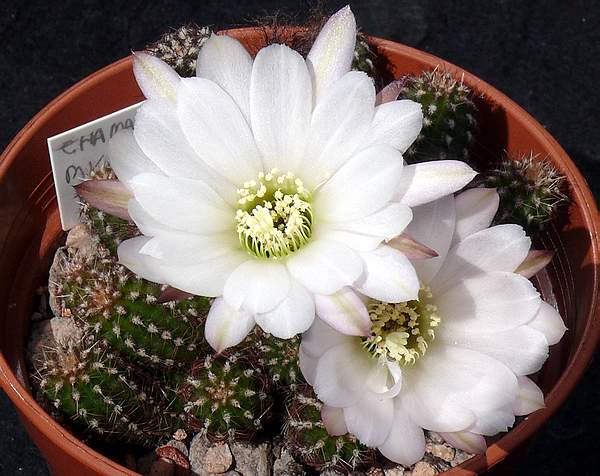 hybrid florrie cammack