Making Botanical Illustrations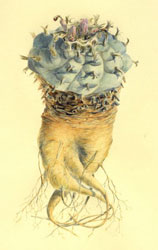 Since the oldest existing illuminated botanical work, the Codex Aniciae Julianae was made in the 6th century (there were books of this kind before it, too), countless medical, magic, taxonomic (etc.) books have been created, that needed botanical illustrations. The purpose of these images was to give a proper picture of a plant for identification. The more precise was the illustration the better it could be used. Woodcuts of the 16th century 'Kreuterbuchs', or the following centuries' botanical copperplate etchings, as well as the lithographies of the taxonomic works of the 19th century, prove that precision was always an important requirement in the genre. The original samples for the multiplied images were drawings and watercolours, even until the 20th century, when photography started to gain more and more ground.

One is entitled to question that why should anyone bother with making botanical illustrations by hand, in the age of digital photography. Why should someone work days on one single drawing, while with a good camera, he or she could get a high quality picture of the plant in a second?

I think a good botanical illustration is a drawing or painting study (let me abridge it DPS in the followings) at the same time. The elemental difference between a photo and a DPS is the mental process through they've been created. A photography (from the greek words photos=light and graphé=drawing) is made by the light reflected by the photographed object. Of course it is the photographer, who manages the camera, but the image itself is the imprint of light. Contrarily, a DPS is entirely the illustrator's interpretation of the sight, as the 'light' must go throught his or her mind before it is fixed onto paper. If I were authorized to fabricate theories, I would state that from this point of view photography is a direct, while DPS is an indirect way of image making.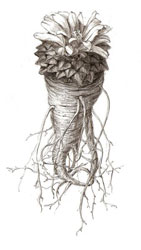 I mentioned drawing or painting study on purpose. It need to be clearly separated from a 'piece of art'. A study is an image which came into existence during a process of studying something from a given point of view. It is totally based on the obseved object, purposeful artistic gestures are not relevant to it. The making of a DPS is primarily the designer's good, because he or she will gain knowledge about the observed object, but if the drawing is good, other people can benefit from it too, as they get the 'results' ready.

I've been an attendee of the Hungarian University of Fine Art, Printmaking Department. Soon after I graduated in 2006, I got a job as a drawing and descriptive geometry teacher in a secondary school of arts in Budapest, Hungary. In 2007 I started to make botanical illustrations to maintain my drawing training. If possible, I do not use photos as models for my drawings and watercolours, but original plant specimens.

First and last, I think making a DPS is a way of understanding the world around us. The point is not having an eye-appealing product at the end of the drawing process, but the process itself, or to be more accurate, the experience that can be won through it..

Author: András Orr

For More Visit the Author's Website: http://www.orrandras.hu/