Euphorbia pillansii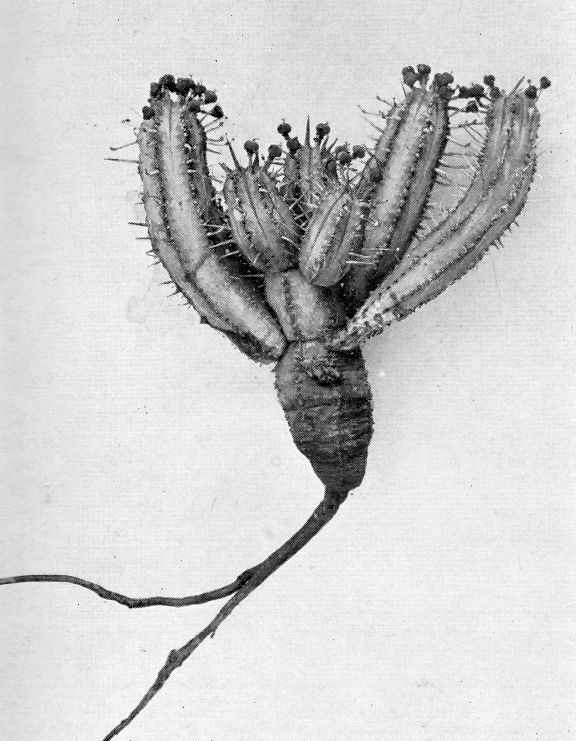 Growth Habit
: A small shrub up to one foot (30 cm) high (larger in cultivation), branching both from the base and top of stems.
Scientific name
:
E. pillansii
N.E. Brown

Taxonomy
: Described by N.E. Brown in 1913. In
The Succulent Euphorbiae
, White, Dyer and Sloane described three subspecies,
E. pillansii v. ramosissima
,
E. p. v. albovirens
, and
E. p. v. pillansii
. This classification is recognized by the IHSP, although the differences seem slight.
Distribution
: Ladismith and Montagu districts of Western Cape Province, Republic of South Africa
Cultivation
: An easy grower, requiring no more than average succulent soil and reasonable sun to maintain its shape.
Flowers
: According to euphorbia.de, this species flowers in late May or early December. My clone only flowers once, in late December. The cyathia are typical of most South African species, in cymes of three, with cyathia with green nectar glands.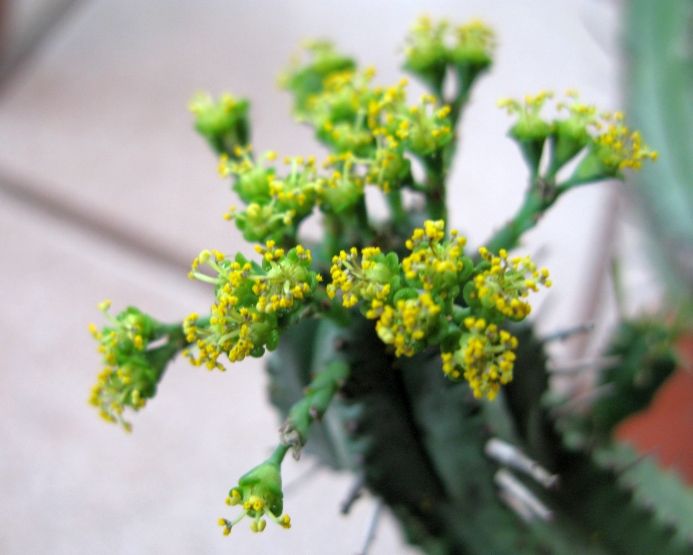 Minimum temperature
: Probably hardy down to freezing, but I keep mine above 50 degrees.
Conservation Status
: CITES Appendix II - Trade controlled to avoid use incompatible with species survival - Global. Uncommon in cultivation.
Observations
: Be careful if you try to ID this species from pics on the net, because there are a lot that I think are incorrect.
Similar species:
E. stellispina
. Note that the former spelling "stellaespina" is no longer valid. The star-shaped spines of
E. stellispina
are derived from "abortive" (i.e. infertile) peduncles (flower stalks):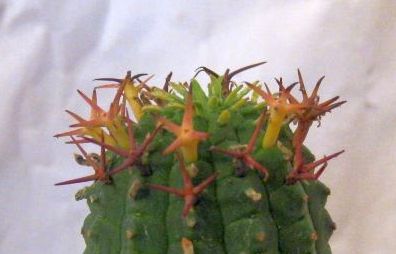 Whereas those of
E. pillansii
are derived from fertile peduncles, which is an easy way to tell them apart. You can see the dried-up remains of the cyathia at the tips of the star-shaped spines of
E. pillansii
in this pic: