Titanopsis hugo-schlechteri
Tischer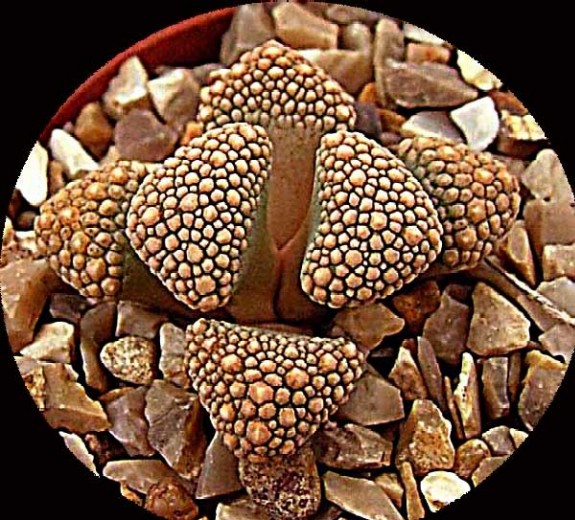 Growth Habits:
Mat forming succulent, rosettes up to 2 inches in diameter (5 cm). The ends of the fleshy leaves are flattened and have very attractive wart-like protuberances on them. There are several species in the genus and all are very much alike, with slight colour variations and size differences. This species is generally accepted as the most choice of the Titanopsis species. The genus is closely related to Aloinopsis.
Scientific name:
Titanopsis hugo-schlechteri
Common names:
Jewel Plant, Carpet Leaf, Concrete Leaf.
These names are applicable to all of the Titanopsis species and proves the point that using common names for plants is an absolute minefield, as so many carry the same name.
Synonym:
Mesembryanthemum astridae, Verrucifera hugo-schlechteri, Mesembryanthemum hugo-schlechteri
Etymology:
From the
Greek
titanos,
meaning chalk and opsis meaning appearance.
Origin:
South Africa (Great Namaqualand), Namibia
Light:
Light shade or dappled sunlight is the ideal situation for these plants.
Compost:
These plants do quite well in relatively poor compost and need very little feeding . However, as with most cacti and succulents the compost must drain quickly, so that the roots are never in waterlogged compost for long.
Water:
Titanopsis plants grow in late autumn and early spring and need reasonable amounts of water then. Keep mainly dry the rest of the year.
Flower:
The flowers are yellow to orange and appear in late autumn and winter. They are reminiscent of Lithops flowers.
Fruit:
The seed pod is a smallish brown capsule
Min. temp:
The books will tell you that this species is hardy down to 25°F (-4°C), but for me anyway it is the least hardy of the genus and I keep them at about 45°f (8°C).
Cultivation:
The plants are about mid range in the degree of difficulty regarding cultivation. They are not easy to keep true to type. They grow in very poor soil in habitat and a rich compost in cultivation tends to make them too lush and straggly. Older hobbyists used to say "grow them 'hard'. Show them the watering can but don't give them a drink." In real language this means do not grow them in too rich a compost and water less frequently than you normally would this type of succulent. I personally split my plant 'heads' to allow them to be seen at their best. they seem to enjoy this treatment and never let me down.
Habitat:
The plants grow in calcrete shale in the open plains and can be very hard to find as they mimic their surroundings.
Comments:
Titanopsis are beautiful little plants that do not take up a lot of room in the greenhouse. They can be placed in the little category of plants that try to mimic their surroundings, along with Lithops, Conophytums and Pleiospilos, to name but a few. In their native habitat some of them are almost impossible to see, unless you get down on the ground and look closely.