Mangrove Cactus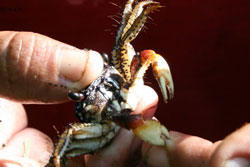 I saw a lot of cactus in the 29 years I lived in the Mohave desert, but somehow I never thought of them as being a beach thing. When I retired to Central America 3 years ago I started looking around for books on local cactus and was surprised to find some references to cactus that grow on the beach, some of them down to the high-water mark.

This year I decided to celebrate my birthday with a few days at the ocean near Leon, Nicaragua, and while there check out the cactus situation. I asked the park ranger at the Isla Juan Venado Nature Reserve if they had any cactus and he said yes and instructed the guide to be sure to include these in my tour the following day. I didn't know what we were going to find and on my previous trip to the reserve I hadn't noticed anything at all, so this was promising. The view from the canal is mostly mangrove trees and the island itself is not particularly easy to hike once you get off the beach.


We accessed the island in the guide's dugout canoe. (Larger groups go in small motorboats). We spent several hours walking on a small part of the 18 km long island which has sandy beaches on the ocean side and mangrove ecosystem on the interior side. Most of the time we were looking at the sea turtle egg hatchery and seeing various plants and animals, mostly birds and crabs, in the island forest. It's interesting how crabs are almost the perfect animal for a land of water, mud, and lush plant life.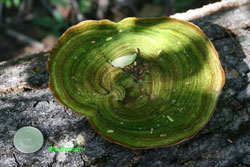 The guide was able to take me directly to 3 sites that had cactus growing. The first was a patch of Opuntia growing quite well in a little clearing in the forest. It looked very much like Opuntia decumbens, a common species here in drier areas. Iīd like to see this in flower to more positively indentify it. The second was a specimen of Hylocereus sp., which is well known as the source of a large reddish purple fruit used in local beverages. It was growing on a tree overlooking the canal and the mangroves. The last 2 specimens were Acanthocereus tetragonus. The one pictured is growing on a beach about a foot higher than the canal, which flows with salt water at high tide and then with fresh or brackish water at low tide. All plants seemed quite healthy and happy in their locations, although a little crowded for space. I didn't see any other epiphytic cactus other than the Hylocereus, but that doesn't mean they aren't there. A mangrove forest is a very dense humid area subject to flooding seasonally and during storms. Mushrooms and bromeliads were very much in evidence.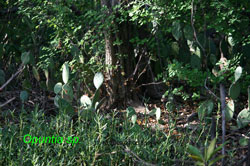 Two species that I had hoped to see because they were mentioned in the literature, were Melocatus curvespinas, a small barrel type, and Opuntia guatemalensis, another sprawling or cascading prickly pear. Next trip I will try to get around to the land side of the reserve opposite from the island to an area where tropical dry forest transitions into the mangroves. This is probably a more likely area to find these species, especially if I can find an area with rocky canyons or cliffs.


It dawned on me that all three of these species have bright reddish fruit with juicy pulp, which makes them prime candidates to be spread from area to area by seeds in bird droppings. It seemed to me that the limiting factor for cactus on the island was the scarcity of open areas with sufficient sun. Some salt spray and brackish water donīt seem to stop them.

It was an interesting exercise in cactus hunting. In the Segovia Mountains where I live, I'm used to seeing the opuntia in dry locations including road cuts and seeing the acanthocereus in the middle of cow pastures or more butchered specimens lined up in living fences. The hylocereus is a common feature on rock or masonry walls in both city and country.

Back in the Mojave, I never thought of cactus in a humid salt water environment. If nothing else, the cactus of Reserva Isla Juan Venado show the adaptability of certain cactus species.

Author: Leland Smith